Excavations Gift Shop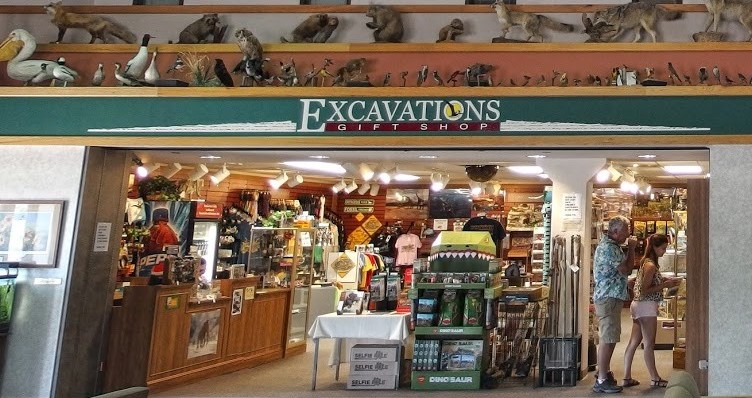 In addition, Excavations Gift Shop is your one-stop shop for books covering a wide range of topics including paleontology, science, natural history, Kansas history, and regional history for both adults and children. A special assortment of books presents an in-depth view of the fossils exhibited by the museum and the Sternberg family of fossil hunters who found them. We are also an official retailer for Safari, Ltd.® featuring a line of high-quality detailed prehistoric models.Excavations Gift Shop at the Sternberg Museum offers visitors a wide variety of gift items and souvenirs for all ages. We carry t‑shirts, jewelry, stuffed toys, puzzles, games, posters, postcards, rocks, minerals, and decorative items. We also offer a variety of custom designed t-shirts and gifts for that one-of-a-kind souvenir of your visit to the museum.
As a part of our commitment to education, many of the items we carry are designed to teach as well as to entertain. The store offers a variety of educational games and science DVDs. If you want to take home a part of Sternberg Museum, we now offer a line of detailed fossil casts molded from or based upon specimens on display in the galleries.
If you are in search of something unique, the museum store carries a selection of works by local artists. Hand carved wooden duck decoys, created by Dr. Eugene Fleharty, are among some of the most beautiful and finely detailed carvings around. The store also carries a collection of pheasant feather ornaments made by Barbara Huber and a collection of woven-wheat wall hangings handcrafted by Kansas artists.
Check out our newest collection of exquisitely detailed rotating MOVA globes and beautiful glass sculptures from the Dynasty Glass collection. These are beautiful, high-end gifts at a reasonable cost.
When you are searching for that special gift, remember Excavations Gift Shop. We are open during museum hours, and museum admission is not required to visit the store.
You can now shop the Excavations Gift Shop online!  Click here  to check it out!
As always,  Sternberg Museum Members  receive a 10% discount on their purchases.
For more information
Call 785-628-5569
Or e-mail  bpenka@fhsu.edu